India, the first largest source of professionals skilled and unskilled is approached by clients across the world for its human resource. The reason behind the global demand for the Indian Workers is due to their proficiency in work world, integrity and apt application of mind. Indian workers are expressive, hardworking, dependable, result makers, reasonable and productive when measured in terms of monetary gains of the organisation they are entrusted to.
For quick deployment of candidates we utilise our computerised data bank.
We maintain an updated and comprehensive data bank of professional and skilled workers selected by a team of experts.
We guarantee that those recruited by us will contribute immensely to build up an empire for you. We are a partner of your success and stands for its ability and talent and integrity. Yes,we are offering the best talent from India.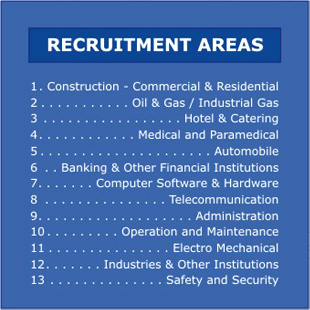 Proposal for Recruitment
We are taking this opportunity to introduce ourselves to you as one of the leading placement agencies in association with the leading international recruiting companies. It is promoted with the sole aim of supplying expatriate personnel needs of employers in Gulf Countries. We have indepth Knowledge and experience of Gulf Countries and our services are designed to provide you with most productive workforce within your budget and time frame. Please find herewith the brochures of our offices which will show you our glorious success in satisfying hundreds of valuable and famous clients in different cities of Gulf Counntries,European Countries and in the U.S.A., in all types of challenging projects.
The purpose of this letter is to remind you of our sincere desire to serve your company and for our continued relationship. We have signed agreements with new agents in different countries, and their names are added in this letter. We will be very happy if you arrange to visit our facilities in the respective countries.

Some of the advantages you have in dealing with us are:
1. We are legal
By virtue of our offices having been licenced you can simply be sure about our legality, reliability and fair dealings in giving you total commitment.
2. On-the-Spot Service
We are located in South India just a phone call away. We provide you with personnel services for all your manpower related problems. It is like having an in-house recruiting agency. We respond and deliver and also note that our branch office is working at all stares capitals of India too.
3. Services
We provide you with every service including information in connection with personnnel supply from different countries viz, information like salaries, benefits, employment/ other terms, availability, suitability, country mix, documentation and complete mobilization plan enabling you to build or execute your project more efficiently.
4. Facilities
All our offices are equipped with the latest systems' methods to provide you with the best in recruitment. All recruits are put throgh very strict selection procedures and given proper orientation. We keep you informed of the progress of recruitment with regular status reports.
5. After Care
Our responsibility does not cease here. We guarantee recruit's performance, we make it a policy to monitor the success of assignments by working in liaison with you to check and ensure the quality of our service. We are customer oriented. After deployment, we time and again visit the labour personnel housing spot to monitor workers' work standard. If any dispute arises among the workers or workers with the employer and coming to our notice with our vast experience we shall try professionally to sort out the problem with a fair degree of diplomacy.
6. Salaries
As agreed by you,in your demand letter and also in comformity with the Indian Labour Law.
7. Visit Principles

Representative from your organisation is most welcome to visit our offices for final checking of PRE SCREENED workers in our DATA BANK. We shall provide our 24 hours secretarial, services and transportation.
8. Terms and Conditions for Employee
| | |
| --- | --- |
| | Period of Contract: Minimum 1 year or more |
| | Working Hours:8 hours a day 6 days a week |
| | Food or Food Allowances & Accommodation:To be provided by the employer |
| | Medical Facilities: To be provided by the employer |
| | Probation Period : 90 days from the date of arrival at destination |
9. Terms and Conditions Between us
| | |
| --- | --- |
| | We demand only legal service charge from the company or the employee (as per Indian labour Law) |
| | We are not obliged to pay visa fees or any other expenses |
| | Expenses of Advertisement to be borne by your side. |
| | Other terms and conditions of Gulf/Middle East Labour Law |